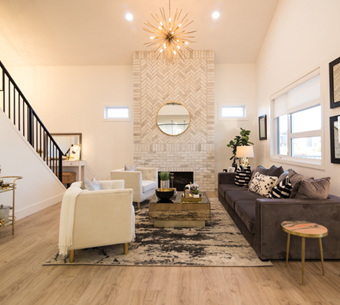 Where is NewRock Developments based?
NewRock has its home office at 671 Industrial Ave in Medicine Hat, AB. From here we manage, oversee, and assist the development of communities throughout BC, AB, and SK.
Is NewRock Developments building in my city?
We are actively building communities in many BC, AB, and SK cities. To learn more, be sure to check out our community's page.
If you don't see your city – let us know! We're always looking for the next exciting project.
If I have a Service or Warranty concern, who do I contact?
If you notice something in your new place that you'd like us to look into, you can contact the onsite NewRock sales representative that assisted you, as well as our head office team at (403) 529 – 1023.
From there, we ensure the issue is discussed with our project coordinators and dealt with in a timely and efficient manner.
We do everything we can to make sure you are happy and comfortable in your new home.
I'm interested in purchasing a home in a NewRock community, what's the best way to do this?
NewRock hires and trains dedicated sales teams for each community. Their job is to guide you through every step of the process at one our beautiful show homes. All of our sales people are great to work with and provide an approachable, pressure free experience. To discover a show home near you, visit the communities page. If you'd like to reach a sales person directly, check out the sales page.
Does NewRock build custom homes?
We certainly do! Over the years we've built many single family, custom homes and always look forward to the next one. If you're thinking of building your dream home or have questions about the process, call the office anytime at (403) 529 – 1023 or visit www.newrockcustomhomes.ca – we'd be happy to help.
Which homes qualify for NewRock Mortgage Assistance?
Mortgage assistance, down payment assistance, $0 down, and other exciting programs and promotions can be discovered over on our communities page. Typically, programs like these are applied to our multi-story or townhome developments, designed with the first-time home-buyer in mind.
I don't see as many communities with NewRock Mortgage Assistance as I did before, why is that?
Programs like mortgage assistance always must follow both federal and provincial rules and regulations. In recent years, more restrictions have been put in place that limits when, where, and how programs like this are applied. Because of this, we have not been able to offer mortgage assistance as much as we did previously.
Despite this, we still do everything we can to ensure our housing is affordable and attainable for all.
Is NewRock Developments just a new name for Classic Communities?
In Medicine Hat, we get this question a lot!
In short, the answer is no. NewRock Developments is its own company, founded in 2010. The only relation we have to Classic Communities has to do with our mortgage assistance program. Classic Communities originally developed the award-winning program, which was then adopted by NewRock at our inception.
Along with the rights to use this unique form of mortgage assistance, we were also able to acquire some members of the Classic Communities administrative team to ensure its successful integration with our new business.
NewRock Developments is proud to have carried the success of the mortgage assistance program forward – pairing it with our commitment to care and quality in every home.