The NewRock Attainable Housing Program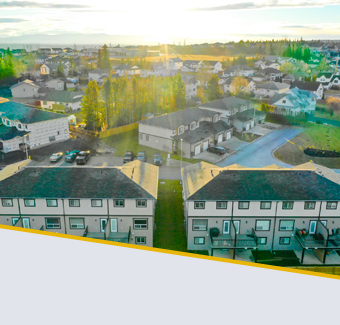 Across Canada, the barriers to homeownership have grown substantially, keeping many would-be buyers out of the market.
The purchase of a home is one of the most important financial decisions one can make. Unfortunately, for an increasing number of Canadians, the benefits that come with owning a home are simply out of reach.
What are the barriers to homeownership?

Overall Housing Costs
Over the years, the cost of building new homes and communities have continued to rise. While this is great for existing homeowners and the general market, the increasingly significant upfront cost is often far too high for new buyers.

The Downpayment
For many, saving money in today's economy is difficult. Setting aside enough to put a downpayment on a home can delay a purchase by years or even decades, and can even keep hopeful homeowners out of the market entirely.

Rising Monthly Payments
Even if a downpayment is within reach, the reality of increased monthly payments grounds many homeownership dreams. When mortgage payments and upkeep are added to the mix, finances can tighten significantly.
To help, our NewRock Team has created a variety of programs that allow deserving Canadians to step into the dream of homeownership.
Through partnerships with municipalities and Canadian financial institutions, we have been able to create a series of successful mortgage and downpayment assistance programs.
Programs vary from project to project, but are designed to remove or reduce the burden of a downpayment and decrease the financial stress that homeownership places on deserving Canadians.
$7.5
MILLION
---
Over $7.5 Million in Downpayment Assistance
Through downpayment grants, price reductions, and tax abatements, we've been able to either greatly reduce or completely cover the downpayment for many of our buyers. To date, we have give or provided over $7.5 Million in down payment assistance.
$11
MILLION
---
Over $11 Million in Monthly Payment Assistance
Working closely with Canadian financial institutions, we are proud to have helped our buyers cover over $11 Million in monthly mortgage payments. For many, these efforts have greatly reduced financial stress, and have helped make homeownership possible.
With our growing variety of community types, innovating approaches to the market, and industry experience, we are always looking forward to our next project.
Browse through some of our past projects and see how we have helped remove barriers to homeownership for hundreds of people across Western Canada.
Let's work together to bring our unique programs and exceptional, attainable housing options to your city!
If you would like to learn more about our Affordable Housing Program and what it could do for you, we would like to hear from you. Contact us or fill out the form below.
Head Office
671 Industrial Ave
Medicine Hat, AB
T1A 3L5