If you are familiar with the bungalow condos at Livingstone Estates, you know that we feature The Westport, Newport and Bridgeport floorplans — 3 signature NewRock designs. However, you may not know that we are also building two unique to Lethbridge floorplans that introduce unmatched variety and affordability to our Estates-Style communities. Starting at just $234,900, the Stanton and Tremont floorplans might be just what you are looking for to downsize without downgrading.
The Stanton and Tremont floorplans are a stacked bungalow design that is space-efficient and carefully constructed not to sacrifice privacy or noise transference. The Stanton is the upper suite, and The Tremont is the lower suite. Each has its own garage, plenty of storage space and a private entrance. Here's a closer look at the site with the Stanton and Tremont units marked in green and purple: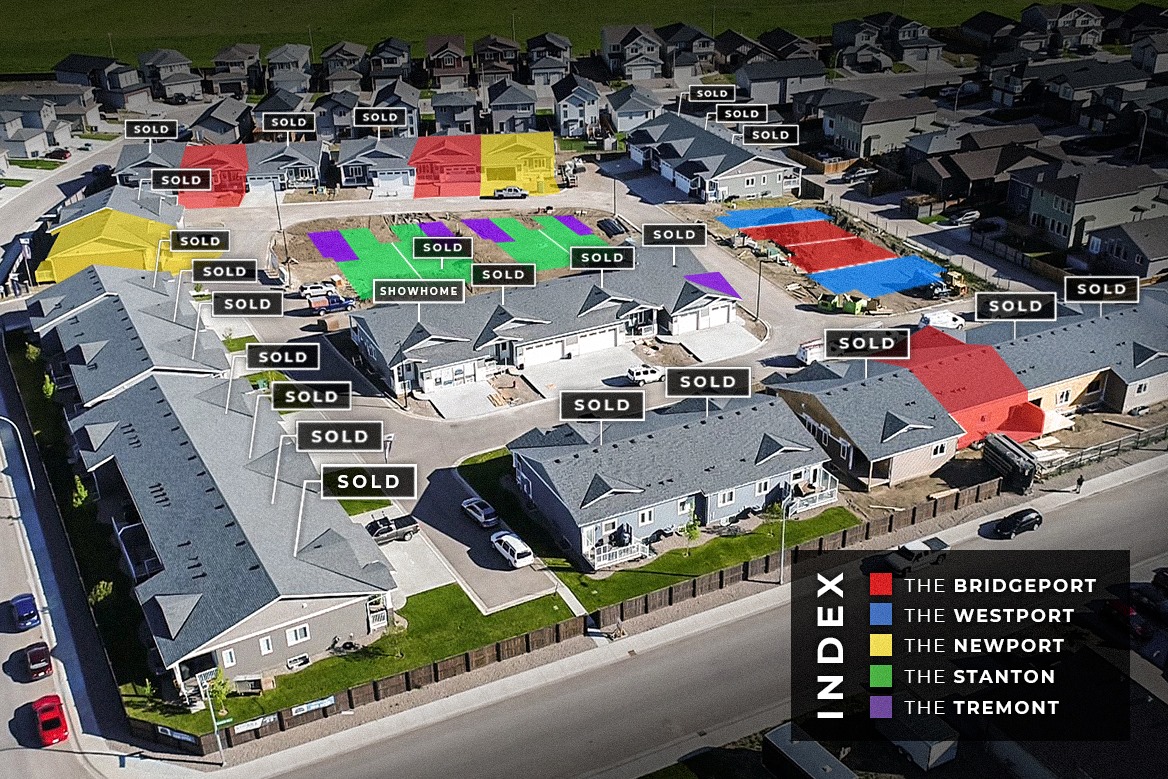 As you can see, general availability is getting low and steady progress is being made onsite! If you're at all curious about checking these plans out, be sure to stop by. Now let's take a closer look at The Stanton and Tremont's: 

The bright and spacious Stanton starts at $269,900 and is one of our team's favourite layouts. The first one we built sold immediately, but we hope to have another one ready to view soon! In the meantime, check out this comprehensive virtual tour to get a better feel for the home.
Click here to take the virtual tour on any device! 
The Stanton is the upper suite and comes in at 1037 sqft. This floorplan features two bedrooms, two bathrooms, a single car garage and an awesome deck off of the dining room. Ideal for entertaining or any part of your day, this floorplan seamlessly blends the kitchen, dining and living room into very functional space. A bright galley-style kitchen with a cleverly designed pantry also packs a lot of storage and useability into a space-efficient layout.

Over the past few weeks, our NewRock team has been hard at work, finishing up the very first of our Tremont floorplans. This particular floorplan is unmatched in affordably, starting at just $234,900, and has been highly anticipated. The best way to experience it is in person — but the next best thing is a virtual tour.
Click here to take the virtual tour on any device! 
The Tremont is a lower suite, thoughtfully designed to feature large windows and open living space. Each of these units come in at 1086 sqft and feature two bedrooms, two bathrooms, a single car garage and an outdoor patio space just off your front door. No part of this floorplan feels like a basement, and all aspects of construction were carefully considered to ensure that you don't hear your upstairs neighbour!
If either of these floorplans interests you, be sure to stop by. We are open 12 -4 on Tuesdays, Thursdays and Saturdays or by appointment. If you have any questions or would like to book an appointment, call or text Trisha anytime at (403) 331 – 1132. You can also visit us at www.livingstoneestates.ca or on Facebook to discover floorplans, community information and more. Livingstone Estates is located at 330 Northlander Bend, in the Garry Station Neighborhood of West Lethbridge.