At Meadowview Point, we're proud to be building Saskatoon's Most Affordable Homes. Featuring full down payment grants and unbeatable price points, these condos — constructed in a unique and cost-effective multi-story design — are ideal for stepping out of Saskatoon's expensive rental market and into homeownership.
But there's more to a home than a price tag. Affordability — important as it may be — isn't enough. Above all else, our team is committed to Care & Quality in Every Home. That's why, every condo-style home offered at Meadowview Point is uncompromisingly well-designed, open, and built to last.
Let's explore a few of the floorplans and features that make living at Meadowview Point as awesome as it is affordable.
The Alder
Starting at just $209,000, The Alder is the least expensive home-style offered within the community. At 800 sqft, featuring 2 bedrooms, 1 bathroom, and an efficient layout, this floorplan allows you to live comfortably in a well-built home without going over-budget.
More than just a starter home, The Alder — with its open and modern layout — offers exceptionally affordable homeownership without compromising important features such as in-home laundry, a spacious kitchen, and a comfortable living space.

The Sage 2
The Sage floorplan is the product of the many conversations we've had with young families in the market for their next homes. Throughout the years, our team has recognized the growing need for mid-sized, affordably priced condo-style homes. The Sage 2 more than fills this market gap.
At 1153 sqft and starting at just $258,000, this main-floor bungalow floorplan is as functional as it is comfortable. Spaciously designed with 3 bedrooms, 2 bathrooms, a large living space, and a well-sized eat-in kitchen, The Sage is perfect for growing families in search of a little more room. And if kids aren't in the equation, the third bedroom functions equally well as a home-office space.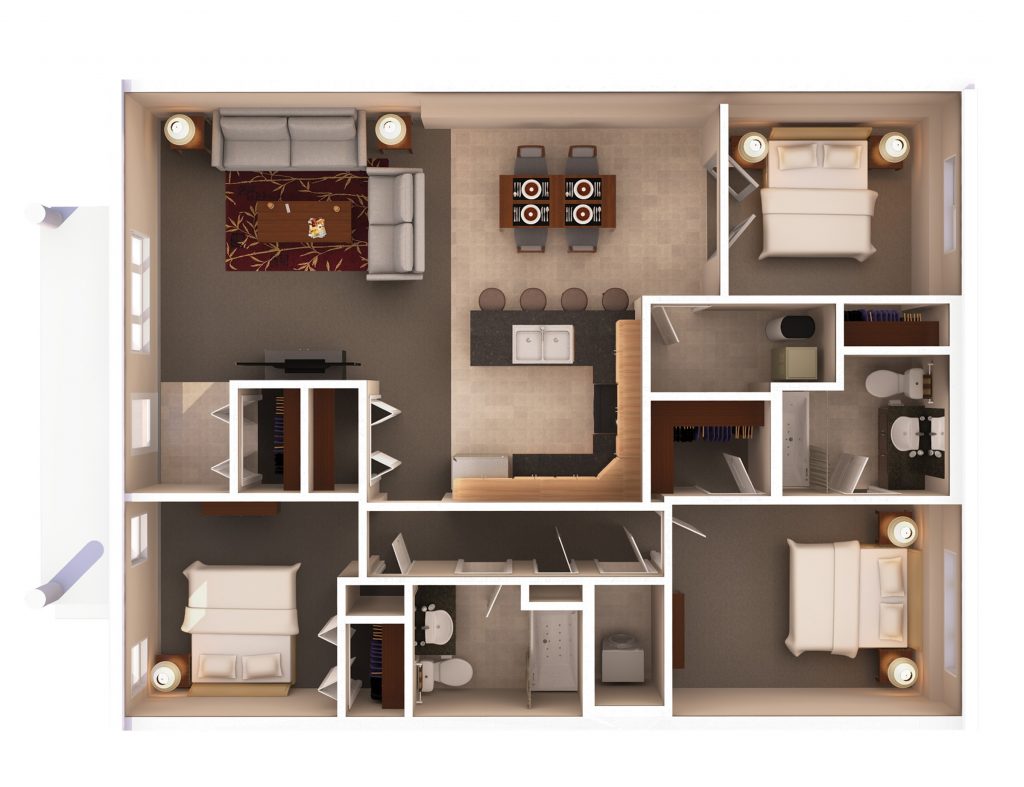 The Juniper 1
The largest floorplan offered at Meadowview Point, The Juniper is a 1242 sqft two-story home that features a variety of layouts designed to cater to different lifestyles. The Juniper 1 — ideal for growing families — features 3 bedrooms, 1.5 bathrooms, and a modern first story that combines a dining room, living area, and kitchen into one exceptionally liveable, functional space.
Starting at just $264,000, the Juniper 1 is as well-built and as large as any home in its price range. Efficiently designed with an open-concept feel, this home provides ample space, optimal comfort, and the flexibility necessary for a changing lifestyle.
Designing Your Own Home
Regardless of which you choose, we'll work with you to select the colors, features, and upgrades to turn one of these reality-tested floorplans into a home that suits your unique style. Unlike a typical home-sale, when you purchase at Meadowview Point you'll have a hand in the creation and design of your home. Across all of our NewRock Communities, former buyers frequently remark on how much fun they had working with our team to bring their homes to life!
The Maintenance-Free Lifestyle
We recognize that for many young professionals and families, time is in short supply! That's why, when you move into Meadowview Point, you'll begin living maintenance free! Activities such as mowing the lawn and shoveling snow are covered by a low monthly condo fee, freeing you up to spend more time enjoying your home and less time maintaining it.
To learn more about Meadowview Point or schedule a tour of our 210 Rajput Way showhome, reach out to us today at (306) 974-1501.